Temetra is uniquely experienced in the variety of data gathering used in the non-domestic metering projects in Ireland. We've used this knowledge to develop an Android app this is suited to domestic metering, and takes advantage of the advances in handheld devices in the last few years.
Temetra Fieldwork is our surveying and data collection application, running on any Android device, including smart phones, mini and full-size tablets.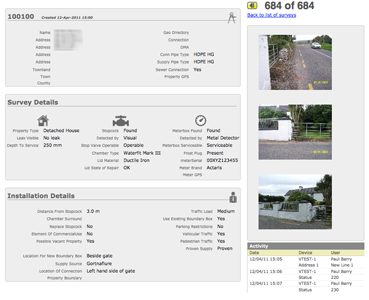 Temetra Fieldwork incorporates all our experience from the non-domestic project, and improves the survey process in several important ways.
Fully electronic recording, complete with photos and GPS
Simple to use forms, with validated entries, mandatory items and hiding of items based on selection
Synchronize in the field using 3G, or Wifi back at the office
Full audit trail of edits, and allow editing of records simultaneously on two devices with undo
Searching and manipulation of the records on Temetra
Android gives us access to a wide variety of form factors, allowing you to select the most appropriate device and has several advantages over older Windows Mobile based devices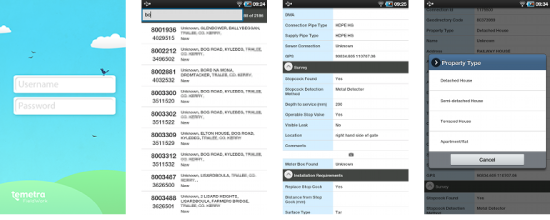 For Surveying, we recommend the Samsung Galaxy Tab >>more info.
For customers who already have Trimble equipment, Temetra has teamed up with Trimble to provide fully electronic surveys for metering.
From pre-installation, through installation and commissioning, ATP files can be used to organize crews, ensure accurate form filling, and store the resulting data on Temetra.
Trimble handhelds allow proper integration with licensed maps to provide accurate coordinates in urban areas, referencing building outlines to correctly locate meter points.