Focus on the data rather than the collection technology
Temetra provides a comprehensive data collection infrastructure, allowing you to concentrate on using the data available from advanced metering, rather than the technology used to collect it. We combine mobile collection and fixed network data from a wide variety of technologies, into a single high performance repository.
By using the Temetra service, you see a simple, consistent interface, allowing you to choose the most appropriate technical solutions without vendor lock-in.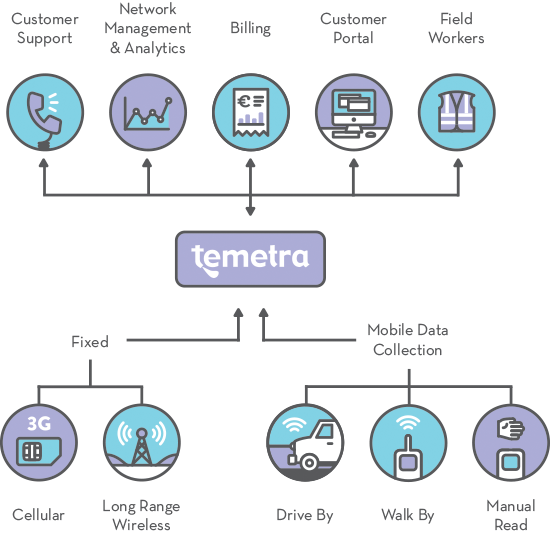 Simple, predictable, transparent pricing
Because we are a web-based service, you don't need to buy a dedicated PC or install any software. Input your initial meter route using the simple web interface and you're ready to read meters. When used in conjunction with a handheld walk-by system, you then download the route to the hand-held, collect the data via telemetry, upload the data back to the system and view it anywhere.
Scalable solution
The service is ideal for networks that are introducing or retro-fitting telemetry and advanced data meters. Unlike technology-specific software, we work equally well on networks with less than 50 meters all the way to more than one million meters, and because our pricing structure is based on the number of meters in your network, we are significantly more cost effective on the small to medium sized networks.
For large networks, we have advanced routing and in-the-field communication to improve meter reading efficiencies.
Pick the most appropriate collection method
Many collection methods are inappropriate for a small number of meters because of the investment required in infrastructure and training. Temetra allows you to introduce the most appropriate collection method rather than the one that involves the least infrastructure and support.

Your data is safe
We use a highly reliable data centre to store your data and back-up data to a geographically different location. At all times your data is available to download onto your PC as an XML file or CSV file that can be loaded into any spreadsheet application such as Excel. More on Security
Access to on-going improvements without service interruption
Since you access the system over the internet, there's no need extra burden on your I.T. department and improvements are immediately available without further software installation and down-time.
Access your data anywhere
Any PC or device with access to the internet can be used to log in and view the meter readings and reports. This is useful for networks with more than one office that needs access to the data. For example, your network management offices can log in and see all the data available from the network, while your billing department has access to the data for the entire region as soon as collection is complete. No need for internal networks or costly data transfer.
In addition, the data is accessible in the field through mobile phone & laptop, where access to advanced data such as leakage information can be valuable in fault finding or efficiency improvement.