Temetra Reader is now available as a Windows Mobile or Android application for reading meters, integrating with Temetra Geo-routing to obtain meter readings efficiently, and get the best from AMR technology in the field.

Like the Temetra web application, Temetra Reader is built on a modern platform, taking advantage of technology available on the latest handhelds. Built from the ground up using years of meter reading experience, Reader has been designed to minimize support requirements andmaximize time in the field reading meters.
In 2015 we introduced Temetra Reader for Android, for use on smartphones and tablets, giving you access to the many features available on mobile devices such as maps and navigation that were difficult on Windows Mobile.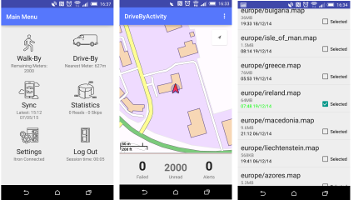 All communications to and from Temetra are over a secure (SSL) internet connection, using any of:
Built in 3G card
Paired with your mobile phone over Bluetooth
Using cradle attached to PC with ActiveSync
Multiple AMR radio reads from a single handheld
Temetra Reader is vendor neutral, capable of reading different AMR transponders simultaneously from a single handheld.
We directly support Itron Cyble RF, AnyQuest and EverBlu, Elster Coronis and drive-by, Sensus Coronis and Veolia Homerider. Using any combination of built-in radios and Bluetooth beltbox, Temetra Reader simplifies reading of multiple technologies from a one handheld.
Location Aware with GPS assist
Temetra Reader can use GPS to log meter locations or geo-locate meters assisting meter reader efficiency.
Built-in camera support and photographs
SD cards can be used to store meter location photographs, and a built-in camera used to capture photographs in the field. Photographs taken this way can be useful for later location, or to validate eyeball readings, skips and tampers.