It's been a busy few months at Temetra, bringing on-line our two largest customers to date, but we've found time to continuously add improvements to Temetra certification, webapp and Temetra Reader.
Temetra receives 27001 certification

 After months of hard work by the ISO team, we're delighted to announce we've been formally awarded our ISO27001:2005 certification for information security related to provision of Meter Data Management.

This completes a process we started at the end of last year to ensure our security policies follow international best practice, and stand up to an independent audit. While we've always had these security procedures in place, we now follow a formal process to a globally recognised standard.
 Geo-routing combined with meter-sequencing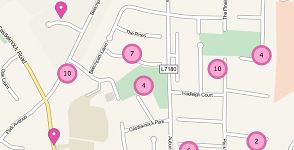 Following on from our geo-routing feature, we're now trialling optimised sequencing of meters within the allocated bundle. Because we know where the meter reader is when collecting the route (from the handheld's GPS), we can provide an order in which to read the meter starting with the nearest meter, taking into account the road network. In our experience, trying to pre-sequence routes based on historic routing rapidly breaks down in the face of real world requirements.

Temetra offers world-beating geographic meter allocation and reassignment, and now an optimized ordering within that route. When combined with the GPS features on the handheld for meter searches, this dramatically improves meter reader efficiency whether eyeball or low power radio AMR.
In our initial testing, making the call to external routing engine decreases the total travel distance by around 20% compared to pre-sequenced routes, and even more when used with ad-hoc routes. This feature typically adds about 10 seconds to a route download while we prepare the download, but can save hours of travel time weekly by giving meter readers well organised tours of the meters.
Temetra Reader's new Search page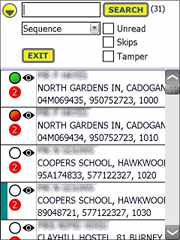 Temetra Reader has a new improved search page that makes it easier to filter not only based on name or address, but also by proximity to the meter reader's current location.
The new search page allows you to search by
Proximity
Sequence
Urgency (must-read-by time)
Free format text for name, address, postcode
Special requirements like key-account, appointments, etc.
For bubble-up or unsolicited transmission AMR, the new search page indicates not only when a frame has been received but also the number of frames received, allowing meter readers to wait for additional frames when specific extended data is required from a meter.